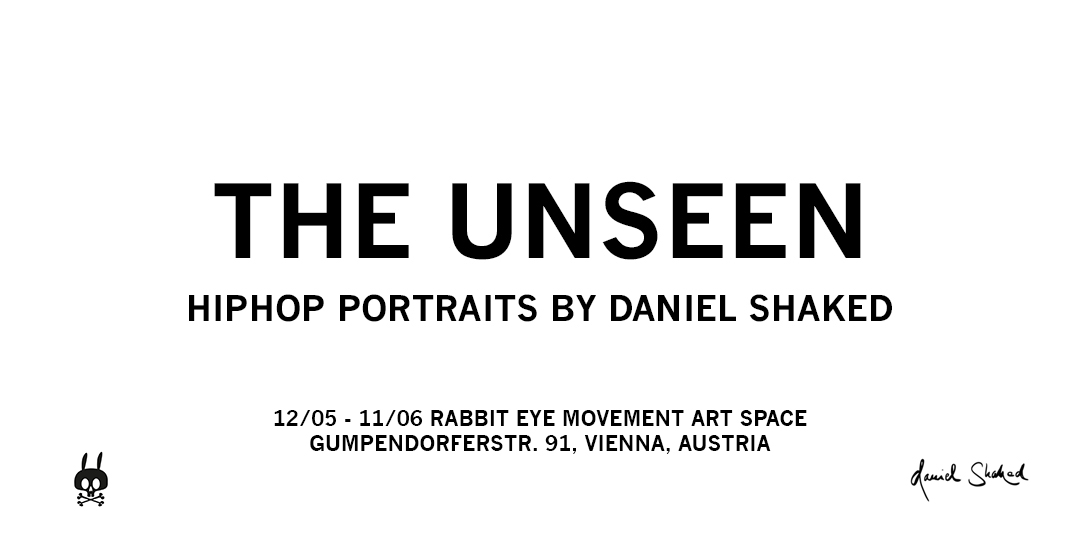 Happy and thrilled to announce my solo show at Rabbit Eye Movements Art Space in Vienna, Austria. For the first time in Austria a gallery focuses on hiphop photography. Read the press sheet on the exhibit: 
DANIEL SHAKED – THE UNSEEN 
'If you are doing a portrait you have to pay attention to what's happening outside the frame', says Daniel Shaked about his work.
The focal point of his long-standing work is the portrait. The Viennese photographer did not go down a straight path to discover is passion for the craft. Back in the day his father used to develop film in his own amateur dark room when Shaked was allowed to look over his father's shoulder. An extended trip to Portugal would only encourage him later to take his first pictures. Shortly after his return to Vienna he received his first requests to shoot portraits, the magazine "The Message" was the client. They needed pictures for their interviews – Hip Hop artists were the topic.
"Good music possesses the ability to produce pictures in the listener's head. Good photography can let us hear and discover new aspects in music. Both complement each other". * 
After the first batch of successful work the requests kept coming in until there was a steady flow of work. Shaked never had a mentor throughout his career. He constantly strived to grow through his own experiences.
Daniel Shaked is not a showman; he's not seeking everyone's attention and does not feel the need to be in the spotlight. Through his work he tries to take in his surroundings and to capture the person in front of the camera in the context of such surrounding.
His approach could almost be described as a 'conversation without words', which does not mean that there is no talking, but that he is not directing the person that is about to be portrayed. The vibe varies from picture to picture, capturing a moment in time.
"If portraits of famous people live through the stories you associate with them, the real good ones stick out if you don't need the story to be impressed by them." (*Datum Magazine about Daniel Shaked)
The person needs to have the necessary space to be able to be authentic. Shaked is very well aware of this and grants the viewer an insight into the persons portrayed which reflects depth and realness.
For the first time selected works of Shaked's Hip Hop portraits will be on display.